Upgrade Card
Affordable credit line and 1.5% cash back rewards on payments*
Credit lines from $500 to $25,000**

Unlimited 1.5% cash back on payments*

Use wherever Visa® is accepted with safe and fast contactless technology***
You're in Control with Upgrade Card
Combine the flexibility of a credit card with the low cost and predictability of a personal loan
Convenient
Use at retail locations or online and earn unlimited 1.5% cash back on payments.* Or send funds to your bank account
Lower Cost
No fees and set payoffs bring your balance down faster so you pay less interest ‡
Predictable
Pay down balances from each month at a fixed rate with equal monthly payments
Lower Cost than Traditional Credit Cards
Bring your balance down faster to pay less interest
Interest Paid on a $10,000 balance with Upgrade Card vs. Traditional Credit Card by a user making a credit card's monthly minimum payment
| | Upgrade Card | Traditional Credit Card |
| --- | --- | --- |
| Time to pay off the balance | 2 years 1 | 28 years 2 |
| Interest paid over that time | $2,102.71 3 | $14,423.16 2 |
1. Example of amortization period using Upgrade Card
2. Source: minimum monthly payment calculator available at https://www.bankrate.com/calculators/managing-debt/minimum-payment-calculator.aspx assuming a $10,000 starting balance, "interest + 1%" minimum and an interest rate of 18%, which is approximately equal to the national average rate for good credit (source: https://www.cardrates.com/).
3. Interest of $2,102.71 assumes a $10,000 charge and installment payments of $504.29 for 24 months. Installment payments calculated with 18% APR and 24-month term accounting for interest accrued between the charge date and the due date 51 days later.
How it Works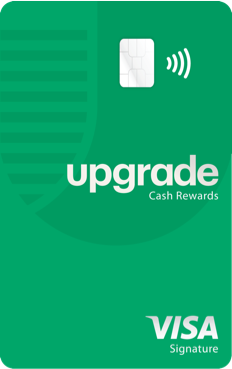 Get your Upgrade Card

Apply online and get a credit line up to $25,000** with your Upgrade Card

Make purchases or get funds sent to your account

Pay with Upgrade Card at retail locations and online and earn unlimited 1.5% cash back on all purchases when you pay them back.* Or get funds sent to your bank account

Pay it down

Make monthly payments, which can be debited directly from your bank account, and get your unlimited 1.5% cash back on payments*
Unlimited 1.5% Cash Back on Payments
Get rewarded when you pay down your balance
Earn 1.5% cash back on Upgrade Card purchases when you pay them back.*
As of May 7, 2021
Lifetime Cash Back
$365.50
Chip Enabled Contactless Upgrade Card
No touch payment is fast, safe, and hassle-free.
Pay with your phone or device by using Apple Pay™ or Google Pay™.